One of the activities I did for years at summer camp in the Catskill Mountains was pottery. It was messy and fun but much harder than it looks! The best part was molding a lump of clay into a bowl or a mug or a vase and feeling the finished product literally take shape between your fingers.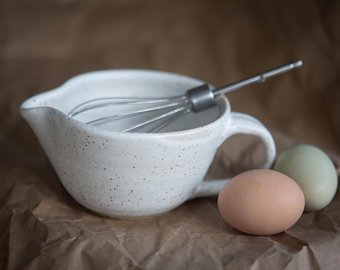 I was reminded of this last month when I attended a local women's conference. One of the vendors, CnG Pottery, had set up a booth and I was instantly drawn to the beautiful handiwork on display. There's something special about picking up a handmade mug or bowl and feeling the texture of the clay while admiring the imperfections that make each piece special and unique.
I wanted to know more about the woman behind the kiln. Over coffee and tea at the Frappe House one cloudy afternoon, we chatted about how this later-in-life hobby has become a passion and a business for Kathy Posey.
Please tell me a little about yourself! Were you born and raised in the Central Valley? If not, how long have you been here and what brought you here?
Born and raised in the mountains of NW Montana, I came to the Valley out of high school to spend the summer. Here is where I met my husband that summer, and here I am!
How did you get into pottery? Did it start as a hobby or is it something you've always done?
Learning to throw pottery had been on my bucket list since the movie Ghost. I wanted something to do with my grandson whom I am homeschooling, so two years ago I signed up for a class at Clay Mix, which was full with a waiting list. A year later they called and said they had an opening. I jumped on the opportunity and immediately fell in love with everything clay. Within two months of my first hands-on experience I found a potter's wheel on Craigslist and later a kiln. I am hooked for life!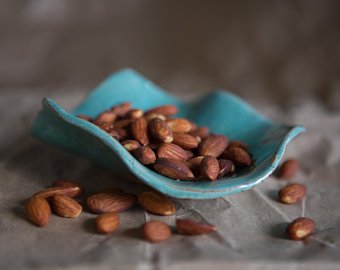 How did you name your business?
My first Instagram account was "Chickngranny" (yes, I raise chickens in my backyard, and I am a grandmother). I thought the C (chick)-n-G (granny) seemed like a fun business name with a backstory.
What inspires your pieces?
The mountains, trees, rivers! One of my most popular pieces is my Sequoia Mug. I love the smell of earth and love putting my hands in soil when I garden. From this is my love of dark brown clay…most of my pieces are made from dark brown clay with much of it exposed so you can feel the coarseness of it – the earth!
What are your favorite things to make? What's your next challenge and what do you hope to learn to make that you don't already?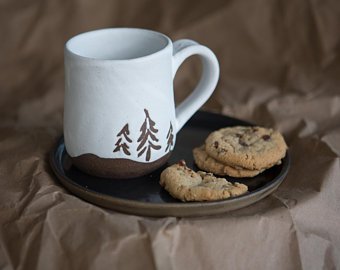 I love making mugs of all shapes. Talking with people and watching potential buyers pick up and hold several pieces to find their favorite is fun. Some people like taller while others the rounder bases, which act as a hand warmer. A mug is an introduction to pottery for many people and I love it when someone makes their first purchase as I know they will use it nearly every day. I also love making other functional pieces such as bowls.
My next challenge is to go bigger! I typically work with clay which weighs from 1½ to three pounds (depending upon what I am creating), so I challenge myself to work with 4, 5, even 6 pounds. As I am still such a beginner, there is SO much I want to learn…such as how to throw beautiful vases and pitchers. I am intrigued by carving designs into the clay, which I am not very good at.
What do you think about when you're at your potter's wheel?
That's a hard one. Sometimes I think about what my hands are doing – are the walls thin enough, what shape am I going for? Other times I just let go and let my mind wander. I pray. I listen to audio books or music. I enjoy the quietness of it.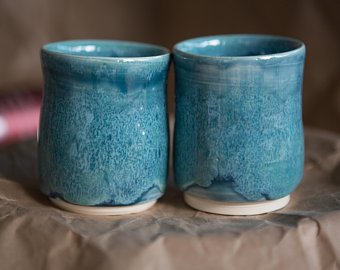 What are some challenges you face in this business?
Second-guessing what customers want. I will make a quantity of a particular item and take it to a popup, and no one even looks. The next time, the pieces may sell out.
Knowing how to price my pieces. I KNOW it is sticker shock when someone who has never purchased handmade – it was for me. Once I knew how much work and time goes into pottery, I realized most potters don't charge enough.
The turnaround time. Between throwing the pot, letting it dry enough to trim, getting it dry enough for the first firing, glazing the piece and firing it again is at least three weeks.
What do you love most about living in the Central Valley?
I love being able to see the mountains from my home (on a clear day), and better yet be only minutes away. More than ever I appreciate the mild winters (but we escape whenever possible in the summer). The people are friendly.
What is your favorite thing to do in our area? Any hidden gems you'd like to share?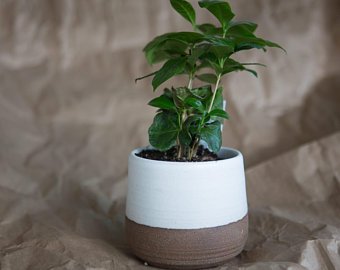 I just realized I am a real homebody. Other than going to a movie once in a while, our time is spent with family, gardening, baseball games and the like. (I love shopping the nurseries for vegetables to grow – one of my favorites is Sierra View Nursery on Academy) We do love camping so once the snow melts we will head up to the high country. I love Kings Canyon and Sequoia National Park and hiking in the big trees. Easy day trips.
Where/how can we purchase your items?
I have pieces in Patio Cafe in Fig Garden Village as well as the Bluebird Market in Kingsburg. Many sales happen through Instagram (@cngpottery), believe it or not. Anyone is welcome to DM me and ask for something I have just posted, or order something they have seen. I do have an online shopping website which I will restock every few months and post that information into my account. I also do popups – I may be at the Clovis Flea Market this spring, as well as several other popups in the fall.
All photos courtesy of Kathy Posey