Have you ever wondered what a Hollywood red carpet is really like? Most of us watch awards shows from the couch in our pjs, but my friend Alex was lucky enough to attend the 73rd Annual Golden Globes this year.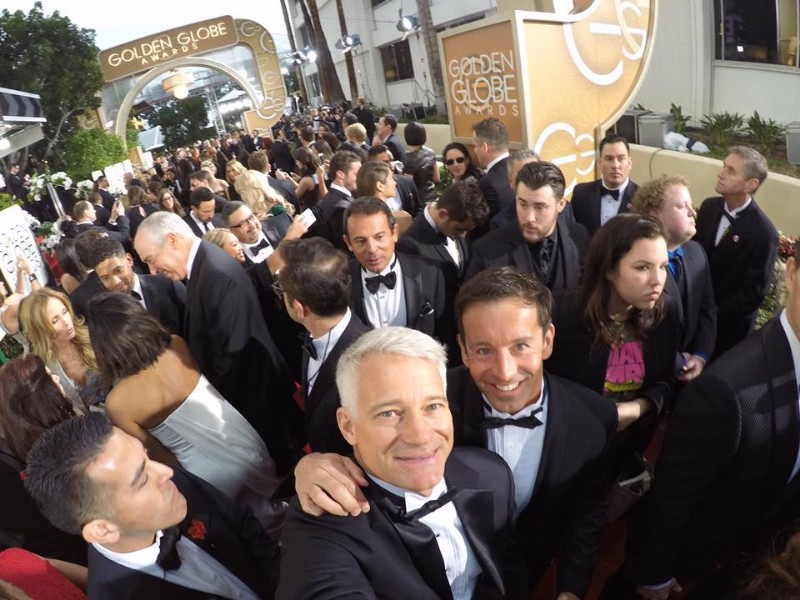 I met Alex in the most serendipitous way. We're both from Boston but connected over our love for Madonna. He's a fellow rebel heart, but that's another story.
Here is Alex's fun, irreverent take from inside the Golden Globes…
How did you get tickets to the Golden Globes?
A friend of mine is a member of the Hollywood Foreign Press Association and she was able to get me last-minute tickets due to a cancellation. It helps that I am working at the studio though, because the security measures they take about who gets to go are pretty stringent. I'm not sure someone off the street could just walk in!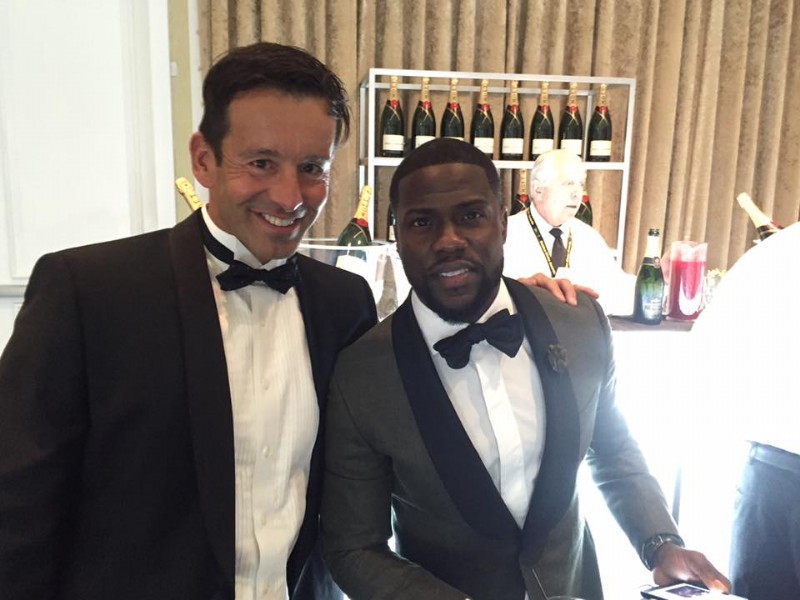 What was the red carpet like?
The red carpet is like a crazy dream. Lots of screaming, very crowded, and hot because of the lights. It's stressful because you're being asked to move along and keep things moving but there is not a lot of room to move. It is also awkward sometimes because, like me [that night], I stepped on an actress's gown and didn't realize it, and then when she stepped forward it nearly ripped. That could have been a very embarrassing wardrobe malfunction if you know what I mean!
Who looked the most beautiful to you?
I thought Jennifer Lawrence was really fashionable and sexy in her red sheath dress with the openings on the sides. She always has great style, and her approachability helps seal the deal.
Any surprises on the red carpet, or inside?
Katy Perry was a surprise - at least her outfit was! And The Rock pulled off a really great purple jacket which I don't think anyone else could (except for maybe Prince!).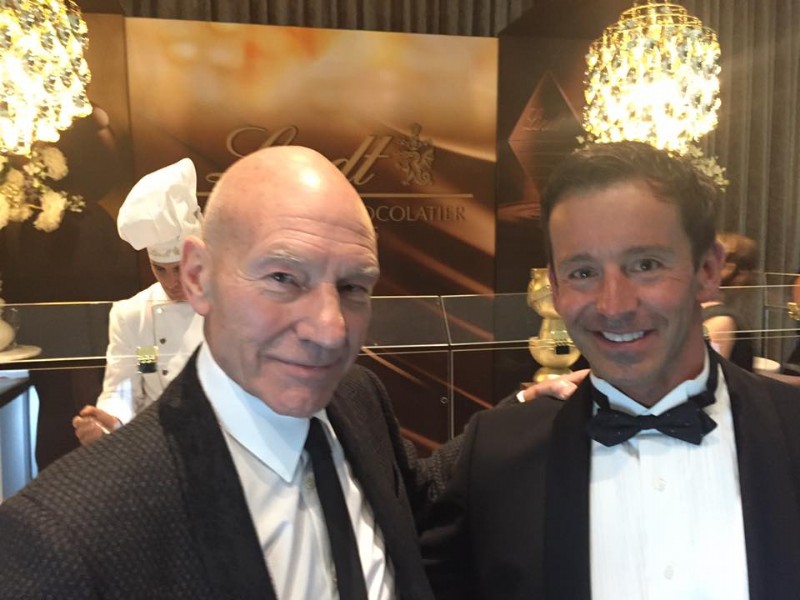 What was the show like? Is there a lot of waiting around? What do you do during the commercials?
The show is secondary to what goes on at the bar. That's where the action is. Most actors and presenters head to the bar during the show once their moment is over, and they hang out there and relax even while the show is still going on. So that's the best place to be if you want celebrity encounters! It all moves pretty quickly though, and you don't notice the commercial breaks that much because that's when everybody gets up to mingle and it's fun to people-watch. Besides, two minutes of mingling goes by really quickly when you have to rush back to your seat for the next segment to begin!
Is there anything at the awards show that they don't show on tv?
A lot goes on that you don't see on TV. For one thing, Ricky Gervais's jokes were bleeped out a lot and while they weren't always funny, it was interesting to see how his gags played in the room (sometimes they fell flat, and people didn't seem to be enjoying his brand of insult humor).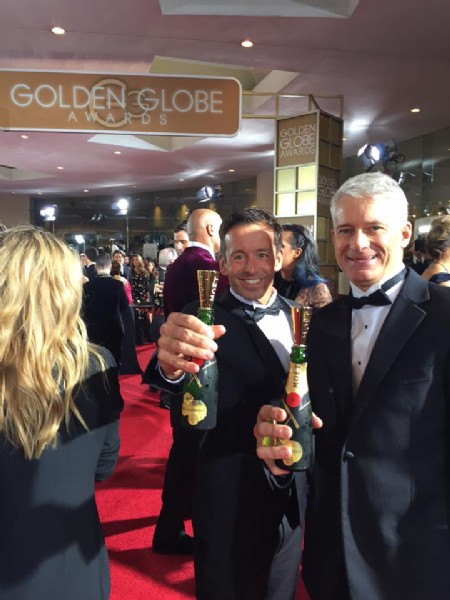 Most importantly, who did you wear?
I thought you would never ask! I went with a basic black Hugo Boss tux with shawl collar. I realized I didn't have a contemporary tux to wear about 22 hours before the show, so on Saturday night I scrambled to buy one and find a tailor who was working overnight (luckily there were several on Golden Globes duty!). I pretty much got outfitted, tailored and styled in a matter of hours, so I'm just glad I was able to find something that worked and made me feel good to be there. The last thing you want to do is go to an awards show feeling badly prepared compared to everyone else! I will confess that I gave up on the authentic bow tie; I lost patience and resorted to a clip-on at the last minute (but it was Valentino lol)!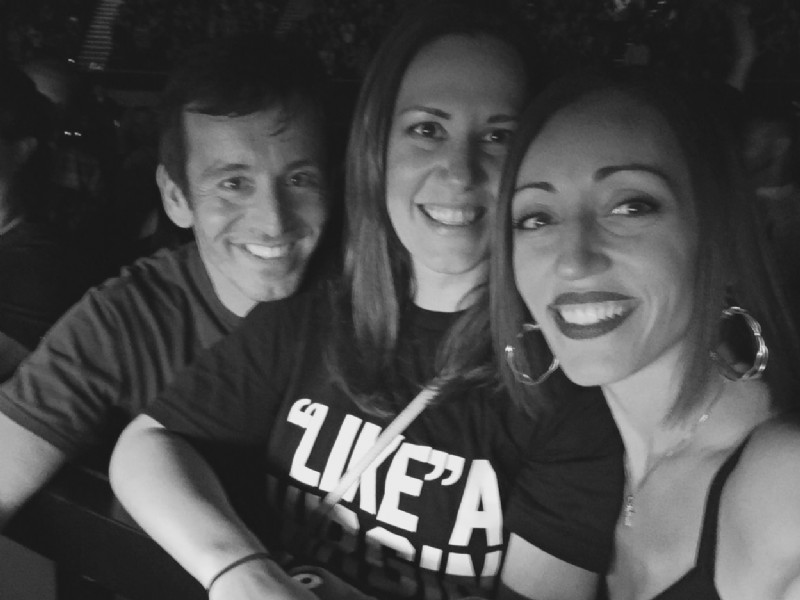 Photos courtesy of Alex Kostich.